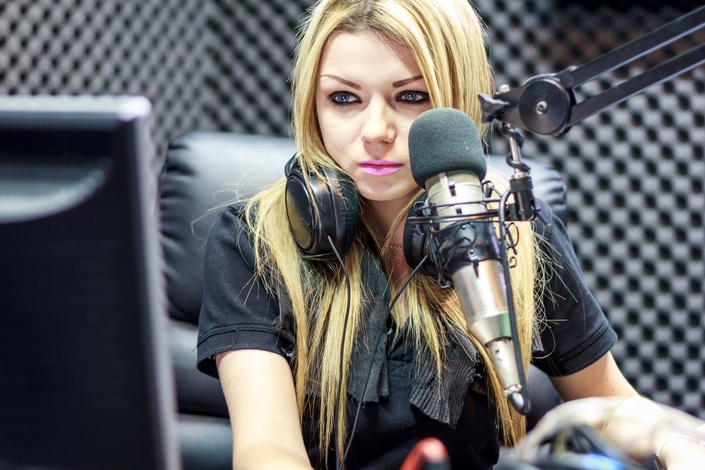 The Ultimate Guide To Radio Presenting
Create Awesome Radio Shows
The 'Book' Version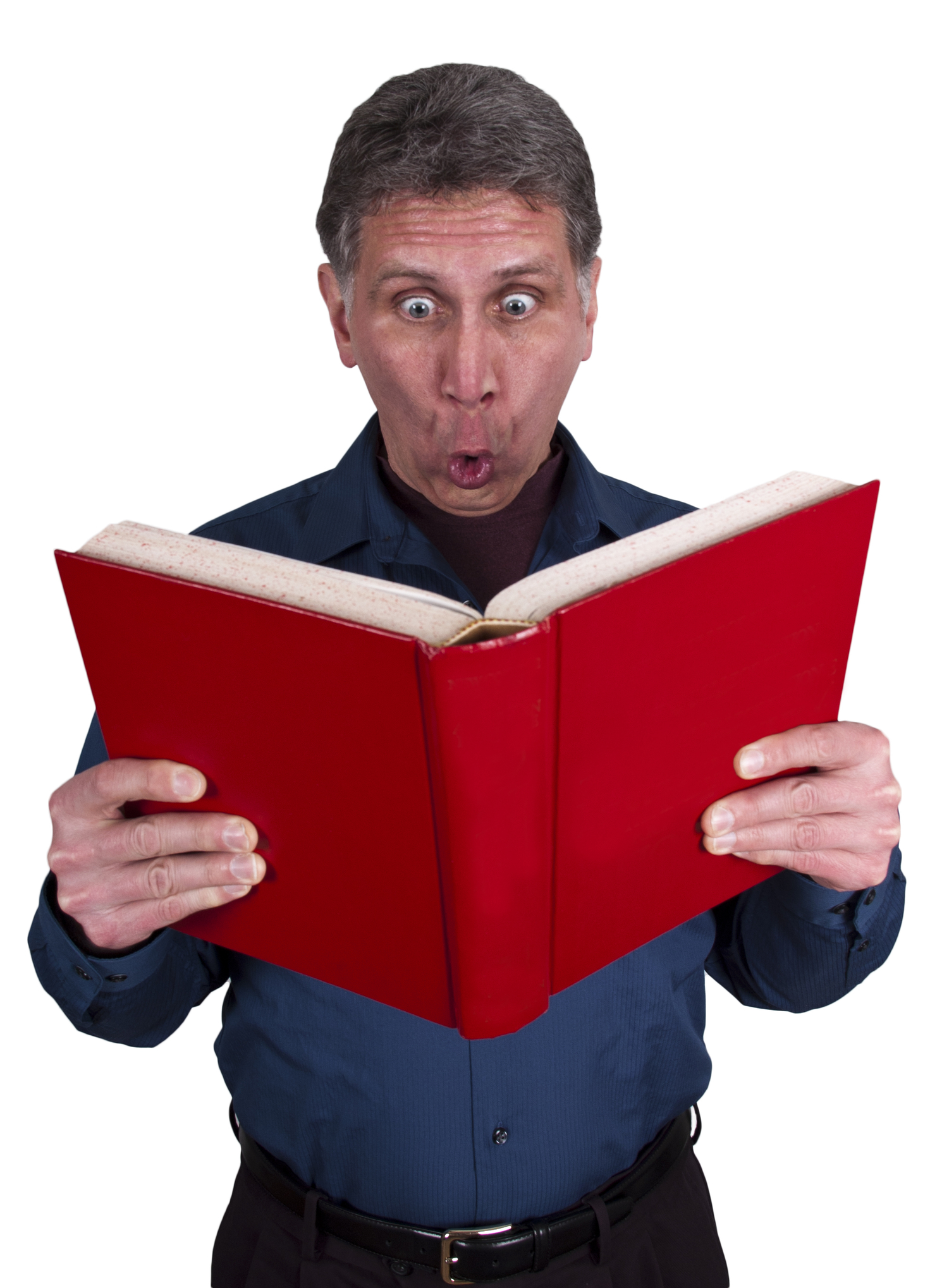 Fully Mobile Responsive.
Study on the go from any phone, tablet, or computer.
---
Why This Course Rocks...
The beauty of this course is you get access to me, a person with eighteen years experience in radio. If you've got a question, then ask me! You don't get that with a cheaper traditional book.
---
When You Host A Radio Show, Do You...

..
---
Present with a detailed plan?
Have you sourced interesting and engaging content?
Did you structure your broadcast hour into sections?
Do you work from a running order?
Have you carefully planned your show's journey?
Do you feel comfortable with the mixing desk? Can you use it without making any mistakes?
Would you like to put some 'bounce' into your broadcasting voice?
When you read from newspapers, does it sound clunky and clumsy?
Do you know how to get the best out of your show guests?
And tell me, how will you start and end your show?
Grab Listeners, Don't Push Them Away
If your show isn't structured well, you could be pushing listeners away from you. If you have a passion to create awesome sounding radio shows, then this might be the most important thing you've ever read.

I Didn't Have A Clue How To Present A Radio Show....
When I first presented a radio show in 1996, I didn't know what I was doing. My early radio shows were terrible!
Understand This....
Put Rubbish In, And Rubbish Will Come Out
Badly produced radio shows WILL push listeners away.
You've Only Got One Chance To Hook A Listener
Once they've gone, then you've lost them for good.
Think About It....
If a listener tunes into a messy, unprepared and unfocused show, the chances of them tuning back in again are very low.
Ok, Well What's the Answer Then?
You need to have a system in place, AND you need to work hard. If you follow a well thought out plan, commit to getting better, you will improve.
I Took Matters Into My Own Hands...
After a few years of making terrible radio shows, I decided to improve myself. I went to Lambeth College, and I enrolled in a radio production course. I wanted to study radio presenting. I also listened to radio DJs, and I analysed their shows. I joined a hospital radio station, and I practised a LOT. I recorded my shows and examined them. I wanted to know what was working, what wasn't working and what I could do to be better.
Who Am I?
My name is Ashley, and I've been a radio trainer for eighteen years. I've presented a weekly FM radio show to one hundred thousand listeners. I've also hosted a weekend FM show to an audience of twenty thousand and been a radio presenter at numerous community stations. From 1997 to 2002, I managed a hospital radio station. From 2002 to 2011, I worked at The BBC World Service, Radio. I technically operated radio transmissions and trained foreign language journalists. I've also trained radio presenters at four community radio stations. During my time in radio, I've personally trained hundreds of students face to face. In December 2015, I launched The Online Radio School. I currently have over five hundred students enrolled in my courses.

Stations I've Worked And Trained At:
BBC World Service (2002 - 2011)
K2K Radio
Whitechapel AM
FLR 107.3FM
Resonance FM
Radio DÅB FM
TGR Sound
Total Rock
City FM
Croydon Radio
Sydenham FM
Radio Kings: 999AM

I Keep Seeing The Same Mistakes
During eighteen years of training volunteers, I've noticed the same presenting mistakes happening time and time again. My goal is to help community radio presenters produce professional sounding shows. I'm very passionate about this, and that's why I've created these courses.

Here are some of my students describing The Under Priced Awesomely Made Radio DJ Training Course: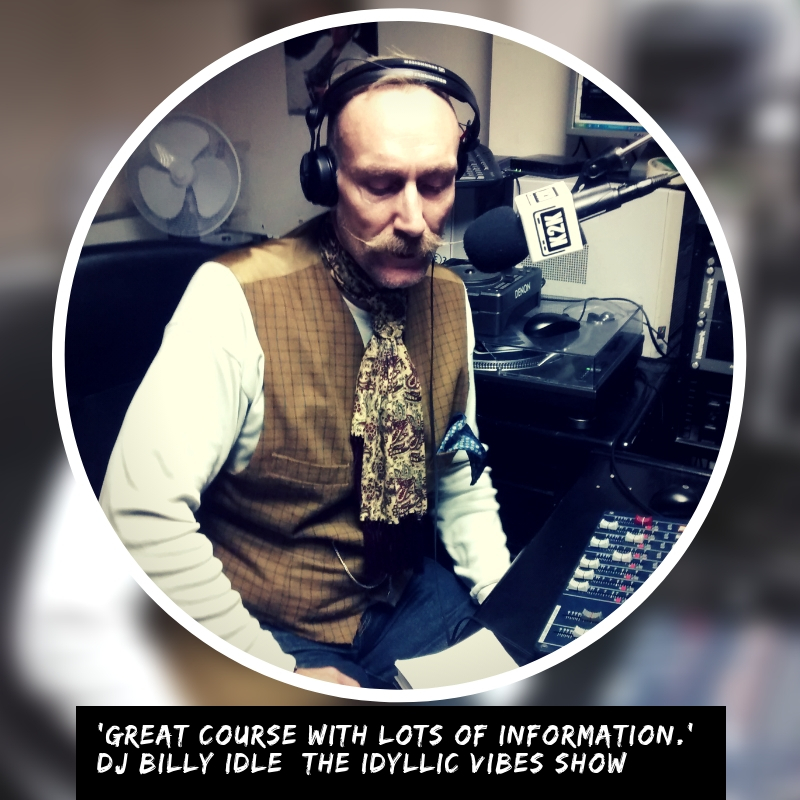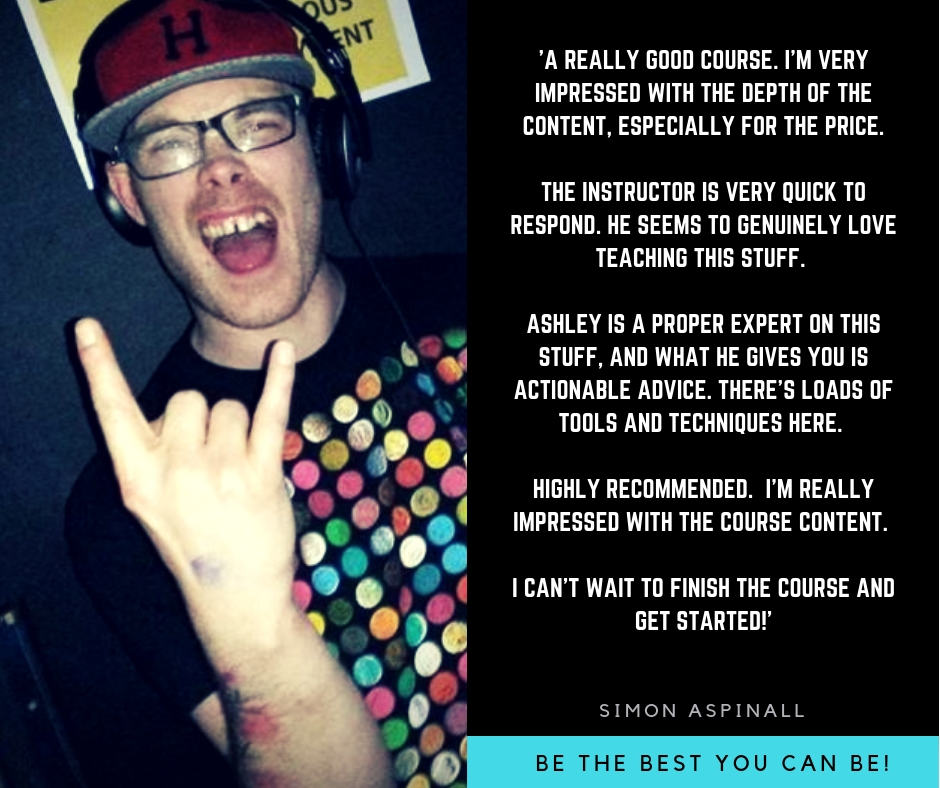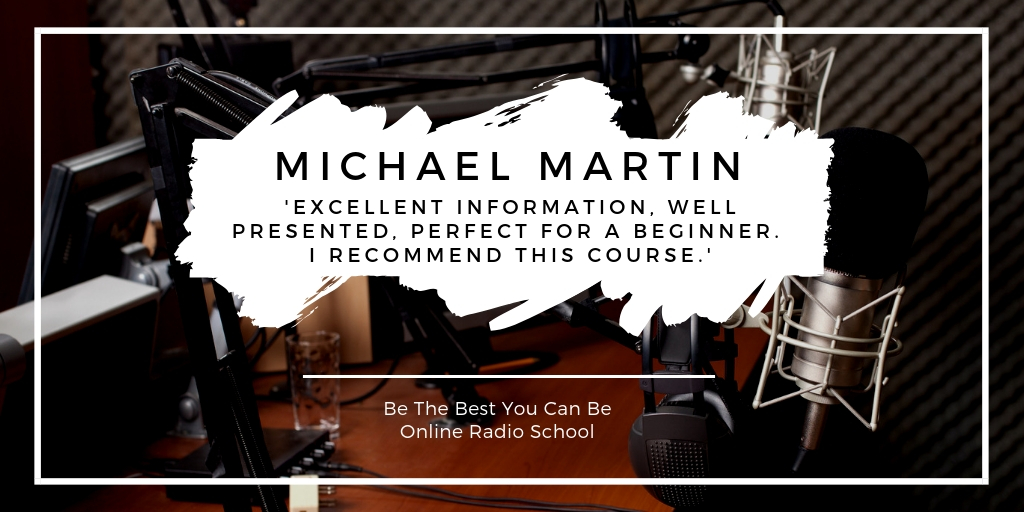 No Training In Show Preparation
A lot of community radio presenters quit broadcasting within their first year. For most cases, it's because they're making terrible radio. Poorly made shows don't attract listeners. It's hard for a presenter to stay enthusiastic if no one's tuning in. My goal is to help you produce great radio shows. It's my mission in life.

What You're Going To Learn
This text-based course is a combination of everything I've learned since 1996. If you study with me, work hard on your show prep, have an attitude of ALWAYS wanting to improve, you will get better. The students that produce great shows have these attitudes. The presenters who turn up with no show prep, and think they can make it up as they go along, tend to quit within a year. If you want to improve as a radio presenter, this course will help you. I warn you though; making great radio takes a lot of hard work. There are no shortcuts. Let's look at what you're going to learn.

One: The Role Of The Radio Presenter
Section one is a brief overview of presenting. We'll look at what makes an excellent presenter, what kind of show host you can be, and the two different types of talk show DJs.

Two: Station And Show Demographics
Here we'll look at targeting your show for a specific audience, understanding your station's music policy, presenting on stations with 'mixed programming', using the listen again function to attract an audience, the types of shows you can broadcast, and swearing on air. I'll warn you now; this is going to be a little dry.

Three: General Advice
In this section, we'll talk about show consistency, setting regular features, recording at home, presenting one to one, and creating a bond with your listener.

Four: Writing For Audio
Section four looks at the differences between the spoken and the written word. It's essential presenters rewrite written content for the ear. You'll learn about the active voice and using your senses when writing presenter links. This section may be a little dry.

Five: Messaging And Links
Section five is where we start getting into the theory of presenting. Here we'll look at getting your messages across to your audience, avoiding local knowledge, scripting presenter links, using the bullet system of show preparation, opening and ending your links, creating route maps, crossing subjects, and using music as a bed for presenting.

Six: Presenting Advice One
We'll look at the different ways you can start your show, menu beds, clips and tags, creating your own music beds, prerecording your opening, planning your chats, and how to tell a story.

Seven: Presenting Advice Two
In this section, we'll look at the different ingredients your show can use, the art of music placement, show tempo and diversity, creating a professional running order, and the BBC World Service studio manager trick.

Eight: Sourcing Show Content
We'll look at considering your audience demographics, events happening around you, using different sources to find show content, saving and linking stories, common interests, real tales, eras and music, genre-based shows, and dates in history.

Nine: Forward Promoting And Chunking
Here we'll look at mixing up your approach, using one event per link, connecting with personal experience, the different ways of dangling the carrot of content, breaking your show into quarters, and why you should promote other people's shows.

Ten: Co-Hosts, Competitions And Show Endings
In this section, we'll look at finding a co-host for your show, prizes and competitions, and considering your show endings.

Eleven: Bringing The Local Into Our Shows
This section looks at how we can use social media to connect with our locality, joining a local element to a national story, using the local system formula, and presenting links over information.

Twelve: Guests, Cues And Interviews
We'll look at finding contributors for your show, ways to source more guests, writing cues/lead-ins, conducting interviews, and filming your shows.

Thirteen: Production Advice
Section thirteen is about using jingles and dry voicers, ad breaks, creating your own show trails, setting your broadcast levels, and using the mixing desk.

Fourteen: Voice Tips
Here we'll look at the pitch and tone of your voice, the pacing of your speech, microphone popping, and tips on how to avoid it.

Fifteen: Basic Media Law
In this section, I'll introduce you to basic media law. You'll learn essential information on libel and copyright. This section is a bit dry; however, it's critical that you understand this material. DO read this section.

Sixteen: Common Presenting Mistakes
Here we'll look at some common beginner mistakes. If you take on board the advice in this section, you will improve. I see these mistakes all the time. Don't make these mistakes!

Seventeen: Analysing Your Show / What To Do After This Course
We'll end with listening back to your shows with regards to improvement. We'll also discuss your broadcasting options.

Bonus Material
How to make an audio package.
Other presenting issues to consider.
Basic comedy techniques.
Applying for jobs in radio.
Tip
Tips signify information worth knowing.

Deliberate Repetition
There's a lot of information here, and if you're a beginner, then it's easy to get overwhelmed. I've deliberately repeated myself in places to hammer home key points. Take your time; there's no rush. The goal is to absorb the information, not rush through it. Once you've finished, come back and use different sections as a reference. On a couple of points, you may not understand the concept in full. That's ok. It'll be explained in more detail further on.

Just To Note
This course is 100% text-based and is accessed only via this site. I've done it this way so you're able to ask me questions as you progress. It's also nice to keep everyone within the same bubble. If someone does ask a question, you'll be able to see my answer. There's no free show analysis with this 'book' version of the course.

Mobile And Tablet Versions
This course is fully mobile responsive. It means you'll be able to study on the go from any phone, tablet, or computer.
Tip
Each section has a recap. Come back to section recaps to refresh your knowledge.

Consider These Points Before You Start
Does your show have a personality?

Will your show connect with your audience?

Why is your show perfect for your station?

Will your show take your radio station somewhere new? If so, how will it do that?

How will your show be different to what the station is already doing?

How are you going to give your show an online presence?

How will your show drive listeners to the station's website?

Keep these questions in mind as you read.

Ok, let's start. You're about to learn a LOT about presenting a show.

Your Instructor
Ashley's been teaching online for four years now. He has two loves in his life, radio and guitar playing.
In the day, he runs the Online Radio School. There he teaches radio presenting and media interviewing. He has over five hundred students enrolled in his courses. In the night, he performs regularly on the London open mic scene. He's been playing the guitar for twenty years now and loves writing songs.
You can hear his supa-fab music here

Any questions then email me here: [email protected]
Course Curriculum
Before We Begin
Available in days
days after you enroll
The Role Of The Radio Presenter
Available in days
days after you enroll
Demographics
Available in days
days after you enroll
Frequently Asked Questions
When does the course start and finish?
The course starts now and never ends! It is a completely self-paced online course - you decide when you start and when you finish.
How long do I have access to the course?
How does lifetime access sound? After enrolling, you have unlimited access to this course for as long as you like - across any and all devices you own.
What if I am unhappy with the course?
We would never want you to be unhappy! If you are unsatisfied with your purchase, contact us in the first 30 days and we will give you a full refund.